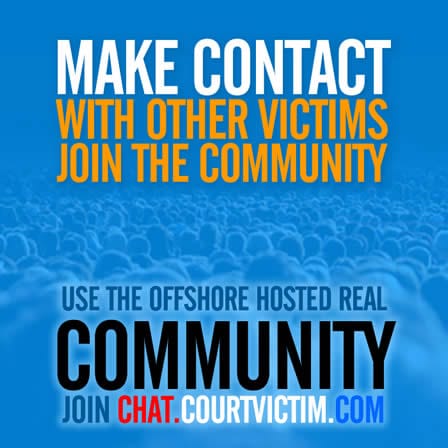 1. Add your info to our database HERE
2. Join the Court Victim Community
3. Add your case details if your ready to go public at COURT VICTIM where victims can host online their info to be found by other victims as well be found by the press and others. This will help others avoid the same fate.
Once you get your info into our database to help all victims prove beyond a doubt that there there is a pattern of abuse. We estimate over 3 million people every year are victimized by the epidemic of Judicial Corruption going on which hides behind court room walls in every city and state in America. Billions are stolen by judges and legal law firms who buy justice by bribing judges via Bank loans that are never paid back by the judges. See HOW TO RESEARCH YOUR JUDGE to prove your judge is on the take by exposing their financial records. Those records when provided to the court may just get your dishonest judge removed.
Stay in touch with other nationwide court victims by registering with the COURT VICTIM COMMUNMITY where court victims are being organized by county and state. Make sure you're kept aware of legal changes, how to courses, pro bono lawyers and other victims so you can network and support each other in your own state.